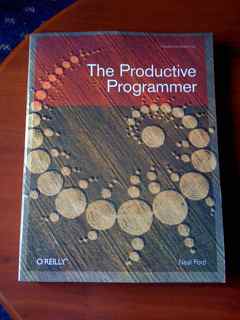 OK, it's finally here. I got my copy of
The Productive Programmer
in the mail last week, and today Amazon updated it's status to "In stock". For all those who have been patiently awaiting this book, it's finally here. Finally! The first glimmer of this book started in 2005(!), so it's taken upwards of 3 years to convert what David Bock and I were talking about into actual tree-ware. Because it took so long to produce, I suggest that, if you are going to buy one, you should go ahead and buy 2, in case you lose one. And, of course, nothing says loving to your spouse like an O'Reilly book. A great gift for anniversaries, birthdays, bar mitzvah's, etc.
Even if you don't buy the book (and can ignore my bitter tears) and you still have an interest in developer productivity, you can head over to the
Productive Programmer wiki
and contribute.